NEWS
Working on updating the site and adding new features.
Join our Discord channel to talk about possible events and layout changes!
EVENTS
January 2020 Monthly Theme
For choruses and my own personal covers, I've been uploading them at MAXIUM QUALITY. ...Which literally takes my computer like two-four hours+ render, which is ridiculous because I really don't -need- it to be in the greatest quality since rarely anyone bothers to switch the quality from 340p to begin with, hah.

Yesterday I uploaded a new cover of mine using different settings. Instead of rendering in WMV, I switched to rendering in MP4 and lowered the quality to 720p HD ...or something.

It worked out pretty well, rendering in 20 minutes instead of 2 hours like the instrumental did, but the video doesn't fill the screen and the better the quality you watch it in, the weirder the text looks. [/sob] You can find the video in my signature.

Anyway, if anyone uses Sony Vegas, do you have any setting you use specifically? Any tips on getting faster rendering with still-pretty results? If you need anymore information, let me know.

My goal is to get good quality videos that fill up the screen on Youtube but don't take several hours to render.

...Oh, I'm also using Sony Vegas Pro 10, if that makes a difference. Thank you!
When you're choosing the format to render there's a check box in the dialogue box which you can check so your video doesn't letterbox.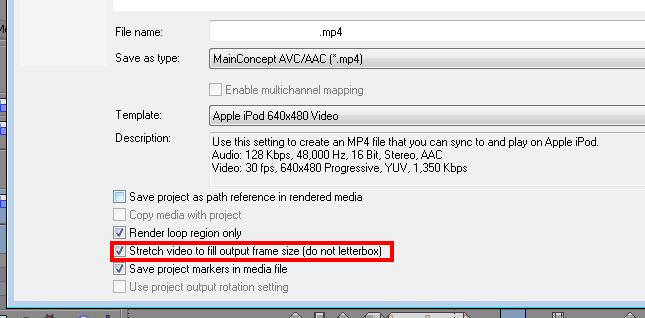 Frankly I just noticed this option so I can't vouch but you can select a few seconds and render them to see if it's what you're looking for.
Hope that answers your query //even though it's old ;A;
And I'm not too sure about how other formats fair in terms of quality and render time since I just tend to use WMV. But it's always good to test them and see how well they work.
---
Permissions in this forum:
You
cannot
reply to topics in this forum