INFO
Board Rules
Chatbox Rules
YTC Discord
Youtube Channel
Facebook Page
Twitter
Feedback System
Monthly Themes
Collab? duets/trios/quartets, choruses, recruiting staff, or voice acting!

How to get your collab onto the YTChorus playlists.

Please read before posting your covers!
How the art forums work.

How the writing forums work.
NEWS
New layout by Shinra!
RaidCall for YTC and new badge!
Feedback Badges
are our newest feature. Go check them out!
[QUESTIONS] Blind Duet 2015 ~ Ask your questions here!
POLLS
Share your thoughts with us!

Layout Feedback!
Hi everyone!
This is the start of a series of discussion threads that we will be hosting here on YTC. If you have any suggestions for topics, please PM sonic-nancy-fan or myself, and we'll add it to our list. 
The thread will not be closed, but new topics will be added regularly!
---- 
Living the youtaite life means that there may often be conflicts between your youtaite commitments and your real-life commitments. How many of you have ever sacrificed time you could have spent studying for impending chorus battle deadlines? Or signed up for a chorus and realized later that you didn't have as much time as you thought to work on it? 
What are some ways you balance your two lives? What would you suggest to someone who is just starting the youtaite life? What are some things you want people to remember, either about taking part in the youtaite life or keeping up-to-date in your personal life? 
__________________________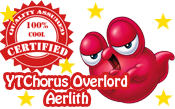 ❉ xAerlith ❉【YT】
❦ Attic Full of Fish ❦ 【Portfolio】
♥ May's Monthly Theme: May it Be! ♥
Avatar by Red_Whirlwind

Similar topics
---
Permissions in this forum:
You
cannot
reply to topics in this forum